Augmented Reality For E-Commerce Products 🚀
Boost online sales by capturing your customers' attention with augmented reality E-Commerce
Boost online sales by capturing your customers' attention with augmented reality E-Commerce
CartMagician has all the tools you need to create amazing augmented reality 'try-before-you-buy' product experiences. E-Commerce businesses can create interactive replicas of their products with CartMagician.
All from your web browser. No app downloads required.
TRUSTED BY ONLINE MERCHANTS ALL OVER THE WORLD
Showcase your products in 3D online and engage your customers with time-saving augmented reality customers can view in their home.
Create immersive AR experiences for the real world, super-fast.
Whether you already use WebAR day-to-day, or it's your very first time — CartMagician makes it super easy to create hyper-realistic, augmented reality and 3D content anywhere, anytime.
CartMagician has been an amazing tool for us..... 2D to AR automation is pure magic!

Anders@Darkroom
Everything you need to get started with E-Commerce Products viewed in Augmented Reality
Select
Our suite of powerful WebAR tools such as automatically generated exports, batch processing and 3D configurators, combined with an intuitive, easy-to-use interface will help you create AR content at scale in a snap.
Create
Use your existing 2D images and 3D models to create interactive augmented reality customer experiences with beautiful templates, colour and design variations and feature hotspots that perfectly showcase your products.
Manage
Hosting your augmented reality projects in a central, secure location allows you to deliver 3D and AR product experiences safely and seamlessly to your preferred web, gallery or e-Commerce platform.
Grow
Creating try-before-you-buy AR experiences at scale as your business grows is simple: the batch processing tool converts dozens of images in minutes while the customizable API can process 3D and AR content directly to product pages.
Showcase products to customers anywhere, at anytime
CartMagician automatically outputs augmented reality and interactive 3D viewers compatible with major web browsers, across all web and e-commerce platforms.
With easy-to-use export features, you can instantly add hosted URL links, share QR codes, add a CTA button in a marketing campaign to generate leads or share a link with a customer via email or SMS. No customer app, no experience in 3D or AR needed.
Keep your customers coming back
Generate new leads and website engagement with interactive 3D viewers that help you showcase products in WebAR and beyond.
Adding hotspots to sell product features, add a colour or model variant switcher so customers can view all the options then view in AR to get a feel of how it fits into their world. Even include ApplePay 'Buy Now' CTA buttons while viewing a product in AR.
By showcasing your beautiful products in life-like augmented reality for web, you'll benefit from increased cart completions, repeat business and most importantly – happy customers.
Credits: Salamander Furniture
Credits: BeachTails - Design your own Beach towels and floor rugs.
Convert 3D product models into 3D configurators with augmented
As an e-commerce retailer, you already likely have 3D models of your products or designs. With CartMagician you can go one step further by converting your 3D models into immersive augmented reality experiences for customer
Create augmented reality products from 2D images and magical 3D templates
The 2D to AR conversion tool is perfect for applying 2D designs onto 3D product models. CartMagician makes it possible to create replicas of your work, you can even mount them on 3D templates that replicate art frames, cushions, curtains, rugs and other everyday products that you might already sell with designs on them.
You can then add them to your e-commerce website or online gallery so customers can virtually 'hang' or 'place' your online products in their home, studio or office before they buy.
Credits: Iswanto Arif - @unsplash
All your augmented reality project files saved in one place
The project gallery has all your WebAR projects and uploaded 2D and 3D media files securely categorized to make access easier: Looking for a file to export again? Want to update or share a product image, 3D model or template used? No problem! Your past work is saved for updating later. It's also useful to track progress or re-share content to new customers.
Showcasing e-commerce products is easy with WebAR tools you can

deploy in minutes.
Using CartMagician's WebAR content creation tools and 3D viewers you'll be able to create captivating, immersive augmented reality (AR) experiences in minutes. You won't need any 3D design skills or web development experience to make these tools work for you.
What customers Say
About CartMagician:
Spreading magic dust across online art galleries, rug merchants and eCommerce is what CartMagician does best.

Shopping With Augmented Reality
Give customers all the reasons to click the buy button with augmented reality on your product page. With the ability to visualize your product in their space in real-time using augmented reality, every customer has the perfect reason to buy.
Benefits of Augmented Reality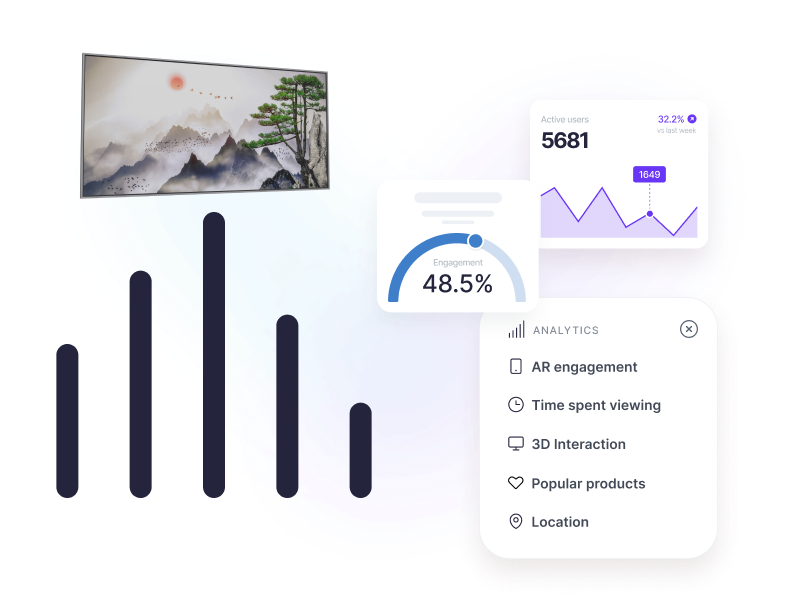 Customer Insights With Analytics
Get feedback in real-time with analytics. Closely monitor conversion and sales and get actionable insight on how to direct marketing campaigns.
Expert Support When You Need It Most
When in doubt, help is always near. Our dedicated team is always on standby to help with what you need when you need it.
Have Questions?
Deliver seamless e-commerce product experiences for online shoppers.
CartMagician automatically outputs augmented reality and interactive 3D viewers compatible with major web browsers, across all web and e-commerce platforms. Content will appear on all devices instantly to deliver an improved customer experience.
---
Boost your e-commerce products. Start with a Free Plan.
Boost your e-commerce products. Start with a Free Plan.
Make it super easier for online shoppers to interact and find the right products on your store using Augmented Reality for E-Commerce.
All from your browser. No customer app downloads.