Create augmented reality products just like magic!
Get ready to experience the best online shopping experience ever with CartMagician, an online platform that turns 2D images and 3D models into try-before-you-buy augmented reality and 3D product visuals.
All from your web browser. No app downloads required.
TRUSTED BY ONLINE MERCHANTS ALL OVER THE WORLD
The Tools In Our Magician's Hat
The Tools In Our Magician's Hat
Peep into our magician's hat and see all the secrets that make CartMagician a powerhouse for your online store products.
Easy uploads
All you'd ever need to create astonishing augmented reality and interactive 3D visuals on CartMagician is your ability to import, drag and drop and your desire to leave your customers with a lasting impression.
Uploading is the key to unlocking all of the amazing features CartMagician has to offer.
Upload & convert 2D images into 3D & AR
Transform 3D models into AR or 3D Configurator
Upload image formats JPG, PNG or upload 3D formats including FBX, GLB, GLTF, OBJ and more
How It Works
3D Product Templates
Streamline 3D modelling and workflows with the magic of CartMagician 3D product templates. Select a 3D template from the library, upload your image, and then click 'Start' to get ready-to-use augmented reality files for your online store, gallery, or website.
Start with Free 3D Template Library
Customise your own product templates
Create Art Frame Templates
Automate 3D & AR direct to product pages
Explore 3D Product Templates
Augmented Reality
With augmented reality, you can easily let your audiences interact with products in their environment without installing any apps. Give them all the reasons to click the buy button. Augmented reality makes it possible for your customers to visualize your product in their space in real time.
Vizualise content from your web browser with WebAR
Life-size representations
No app downloads required to view
Try-before-they-buy product experiences for customers as they shop online
Create Augmented Reality
3D Configurators
Give customers the superpower to personalize products and see them in real-time with our 3D Configurator. Nothing beats the ability to see it for yourself.
Let customers choose the right color as they shop
Showcase fabrics or texture variants
Add an art frame selector to personalise the experience
Add feature hotspots to 3D models to inform customers
Learn about 3D Configurators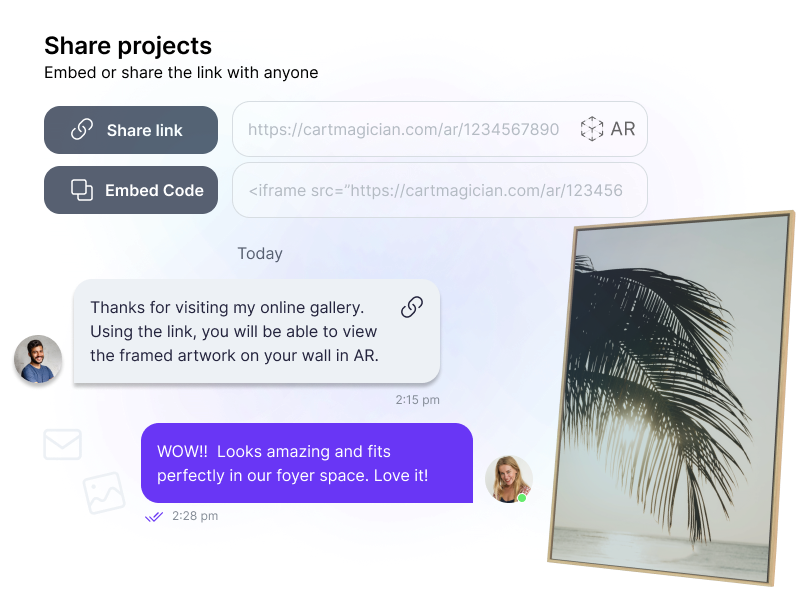 Easy Sharing & Embeds
CartMagician is designed to work seamlessly with your existing workflow. Sharing and embedding content in 3D and AR is a breeze with one-click sharing and embedding. Link to a product page, digital campaign, quick email, or SMS.
One-click sharing
Auto-generated web exports you can embed easily on the web as part of a campaign, no coding requried
Share AR projects with team or customes with single link
Easily integrate to automate direct to product pages or website
Explore CartMagician Features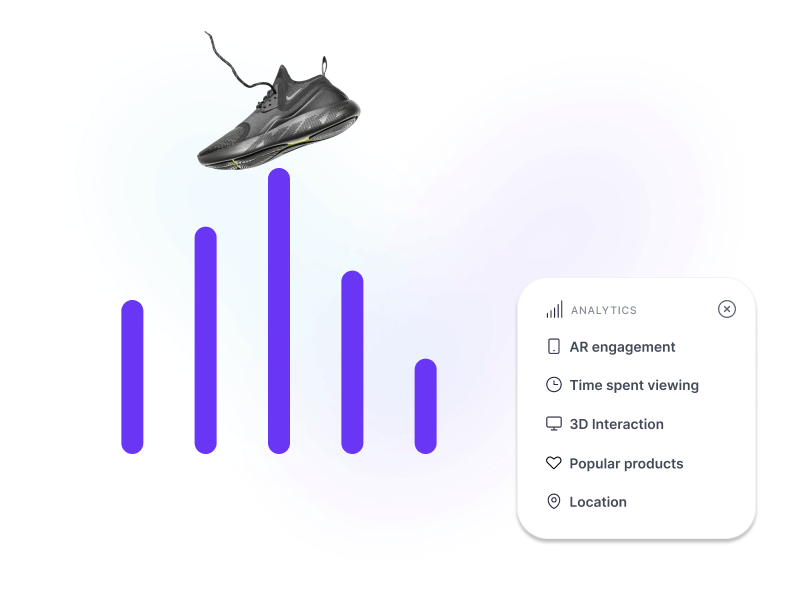 Gain Insights with Analytics
Get feedback in real-time with analytics. Real-time feedback is possible with CartMagician analytics. Get actionable insights into campaign success by closely monitoring 3D and WebAR views, conversions and sales.
Gain valuable insights across customers
Discover 3D & AR engagement
Enhanced reporting for eBusiness
Learn and improve your reach to boost sales
Get Started with Analytics
Art Frame Template Creator
Are you selling art online or running an online gallery and interested in adding augmented reality visuals? With CartMagician Art Frame Template Creator, you can easily replicate your art products. Using 3D and augmented reality, you can present all the options to buyers.
Select a frame, choose materials and save. Easy!
No 3D modelling experience required. Select and save.
Apply your art to your own frame creations
Replicate your frames & Save as Templates
Hundreds of high quality textures or upload your own
Create Art Frames in 3D-AR
The Only Augmented Reality Creation Tool You'll Ever Need.
The Only Augmented Reality Creation Tool You'll Ever Need
CartMagician is powered with enough MAGIC to grow your E-Commerce business and make your products thrive.
Automate


CartMagician APIs Behind the Scene

Imagine every time you add a new product to your store, the the magic of 3D and AR magically appears across your product pages. Contact our team if you would like the ultimate shopping experience for your customers.
Generate


Color, Hotspot & Material Configurators

Showcase all of the product options with CartMagician's automatically generated 3D configurators. Or integrate our API to add the magic touch to your existing on-page configurators.
Sync


Updates direct to store product pages

No more double handling with CartMagician's project sync functionality direct to your product pages. Simply update your project and your product page will be updated automatically.
No-Code


Web-Embeds, Viewers & Shareable Links

CartMagician takes care of the perfect team workflow experience. Auto-generate exports means you can instantly share 3D & AR content online, in print and across digital marketing channels.
3D &
AR

platform that brings your customers closer to your products
3D & AR platform that brings your customers closer to your products
No matter the use case, CartMagician provides merchants with time saving tools that elevate the online shopping experience.
Use AR to View Products Fasters
Help Customers See Your Product As The Perfect Fit
Help Customers See Your Product As The Perfect Fit
Give customers every reason to say yes with the convienience of seeing how your products perfectly fits with their surroundings and meets their taste. CartMagician has the online tools to help merchants easily create personalised shopping experiences for customers. It is as easy as waving a wand back and forth.
Select to View Product in AR
Scan this QR code to view product demo
Save Time And Sell More By Engaging Customers With Visuals
Generate new business with the online tools that allow your team to easily create and share interactive 3D and AR product visuals ready for customers to view as life-sized representations in their own homes in seconds. Access the interactive 3D and augmented reality tools you need to grow sales for your e-commerce business.
CONNECT
Integrations made for modern, engaging, informative e-Commerce
Integrations made for modern, exciting, engaging e-Commerce
With CartMagician you can connect any web or e-Commerce platform in just a few minutes.
More ways to create customer experiences with CartMagician
More ways to create customer experiences
Export, share, and view your content across popular web browsers and marketing tools.
What customers Say
About CartMagician: